James Eugene "Jim" Carrey was born in 1962 on January 17, he is a Canadian-American actor and comedian. He is known for his highly energetic slapstick performances. He is very important not only because he is amusing but also because he is one of the most famous comic actors in the world!
His first leading role came with the movie "Ace Ventura: Pet Detective" which is a Miami private investigator who specializes in the retrieval of tamed or captive animals.
Jim is known for other important movies like "Dumb and Dumber", "The Mask", "Liar Liar", "The Truman Show".
All of these films were made during the nineties but after 2000 he starred in many other famous movies such as "How The Grinch Stole Christmas" as the Grinch. Another movie is "Bruce Almighty" where he is given God's power for a week. He has also starred in movies like "Lemony Snicket's A Series of Unfortunate Events", "Yes Man", "A Christmas Carol" and "Dumb and Dumber To".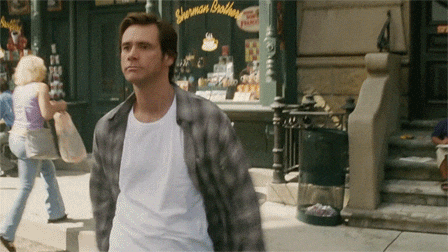 Now I'm going to tell you some funny facts about Jim Carrey:
1. He is vegetarian;
2. He has a dual citizenship, one is American, the other is Canadian;
3. He has his personal aircraft;
4. He was considered for the role of Captain Jack Sparrow in the "Pirates of the Caribbean" and Willy Wonka in "Charlie and the Chocolate Factory" . Both eventually went to Johnny Depp;
5. He is a big fan of the cartoon "Johnny Bravo" and "SpongeBob";


6. He slept with tap shoes in the event that his parents needed to laugh at night;
7. He wrote funny letters to the rapper Tupac when he was in prison to make him laugh;
8. For his participation in the 20th anniversary of The Comedy Store, he appeared completely naked on stage, covered only by a leaf as Adam.


"My purpose is to forget the pain, mock the pain, minimize it. And laugh."
(Jim Carrey)
Karina